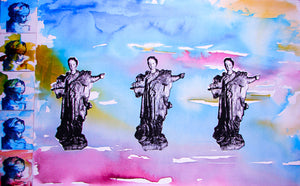 "Almost All Saints" by Ana Durães
Regular price
Sale price
R$ 22.000,00
---
Ana Durães, visual artist, was born in Diamantina/Minas Gerais, in 1962 and has lived in Rio de Janeiro for many years.
He has exhibited his work at the National Museum of Fine Arts, the Museum of Modern Art, the School of Visual Arts, the Palácio das Artes, Museu da República, the Brazilian American Cultural Institute, in Washington and the Kunstlerhaus, in Austria.
He has participated in dozens of group exhibitions and has held solo exhibitions at the Palácio das Artes in Belo Horizonte, the Museum of Fine Arts in Rio, the National Historical Museum, the Museum of Modern Art in Salvador, Masp São Paulo, as well as in cities such as Berlin and Paris. year celebrates 25 years of history.
He also works with scenography and graphic arts. Among his scenographic projects are sets for shows by singer Chico César, singer Joanna and the Celebration of Human Rights at the Flamengo landfill, as well as for the Centro Cultural Banco do Brasil in Rio and São Paulo and the setting of the room of promises in the Basilica from Aparecida do Norte. He designed the scenery and costumes for the opening of the 2008 concert season at the Municipal Theater of Rio de Janeiro, and also set design for the 2012 Summer Parade for the Mara Mac brand, designed by Bia Lessa.
She was a judge for five years of Allegories and Adereços for the access group at the Rio carnival.
He carried out the preparation work for actress Deborah Bloch for the miniseries "Queridos Amigos" on TV Globo, and executed all the works of art attributed to the character. He gave preparatory classes for the actress Ana Paulo Arósio, in the soap opera, "Ciranda de Pedra" and executes the works of art attributed to the character.
She was director of the Laurinda Santos Lobo Municipal Cultural Center and the Hélio Oiticica Municipal Art Center and was Visual Arts Manager at the Municipal Department of Culture of Rio de Janeiro City Hall.
The painting measures 1.0 x 1.60 cm and is one of the most valuable pieces of Ana Durães' work.
ALL SALES ARE FINAL - NO EXCHANGES POSSIBILITY. WORK OF ART PIECES ARE FRAGILE AND SHOULD BE HANDLED WITH THE GREATEST CARE.